Enterdos (IPA: ['ɛnt̪ɛɹd̪ɔs]), voletaio Anbygāl uv Enterdos (IPA: ['anbɪgaːl ʌv 'ɛnt̪ɛɹd̪ɔs]) tans ko gaelira jyrīne om alnolema ovet uv El uv Endonoa son tans ovet uv Ritele Iede vyn terkhaire uv Katimora.
Thelmaise
Edit
Ako "Enterdos" maisans ako uv dosedh'īr gelgagher, Enerio Enterdosi, some gelgaghensmot Enterdos alt 99 EE (EE (English)).
Retenuviel
Edit
Anyd-Retenuviel
Edit
Euterinsent vyn Gelgaghe uv Enterdos
Edit
Īmesengaum uv Eskopretros
Edit
Enterdosa Drion-Īmesenga
Edit
Anbygāl uv Enterdos
Edit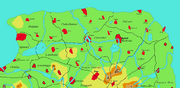 Tueluviel
Edit
Enterdos tans om alnolema ovet uv El uv Endonoa. Me orejyns jyrīneum uv Donerze, Les vyn Namivia om retem vyn emasemtensmot jin Alem Hae om alem, eliem vyn nolem. Tanvenda terhonal uv Enterdos tans 107,147.07 sethek (Sethek (English)).
Orveir tans cyvora vyn caestha heghā tīmega ath vyn ko sūera casenge uv 145 cas (Cas (English)).
Rustema Katrereum
Edit
Enterdos emkatrerans om nurai driontera terkatre vyn pīau onyhaea terkatre loson uv son tano om Ritele Alden.
Driontera terkatre
Edit
Onyhaea terkatre
Edit
Theliavgal
Edit
Enterdos emthegalans jin ko jyrīnederthela kogal vyn baugalaerul, heghā sūrm uv theliavgal om rasa-dērmani uv Kenterin.
Enterdosa Īmena Hāivrum tano īmega hāivrum uv Enterdos, arie Anbygaler le karsava zedorer. Mae chaeren uv Enterdosa Terīmen, Enterdosa Anbygāla Haeīmen, Enterdosa Anbygāla Eelīmen, Poirīmen uv Enterdos vyn Enterdosa Anbygāla Hosthīmen.
Ervaruverte
Edit
Enterdos ērkens ko babrveist uv sta 65.9 hlm.
Selabarsa dērmani om Enterdos, na babrveist, tano Epan, Kenterin vyn Ceda.
Voleta urend om Enterdos akons Enterdos-urend, ko Endonoana urend raonsmot tad arie Tedha Enterdos-urend lor Knei-urend.
Evarorem
Edit
Enterdos tans ko babrteda jyrīne, vyn uvedre uv dāive tans ko jyrīnederthela galian. Karsava evarorem tans Fādāiven vyn antansmot āk gelgaghe uv jyrīne.
Opulievel
Edit
Dāra Enterdosa perina-opulievel maisans kauēzai-aare'ar vyn kauēzai-nurai'ar mīehomum. Roerg Gent Dare Menves, Areurd Dedhe Sullus vyn Garel Tetmeu tano Enterdosa opulievelerum.
Gerotalum
Edit
Rasa gerotalum uv Enterdos tano Gredretunda vyn Ipekat.
Enterdosa Gredretunda Kaurie Gerteshailum emgeronomot lor ko temytī jin homyten alt Mosānskra vyn Valeyne Kaurie Gerteshailum emgeronomot kauē-tāl lor setr homytenum jin epirunaerum uv Drion Kaurie Gerteshailum.
Enterdosa Ipekat Gerteshailum tano setr-tāl jin homyten alt Ghestīnskra vyn Anvālskra. Gerteshailum hāldeno eteidan av lor setr īsoutem fed hīr temytīum, some tārgalahens heketum uv togeronum. Ipekat Kaurie Gerteshailum emgeronomot om terkhaire uv Katimora, fan bavran lor azbawa tans Xencie Ipekat Bavran.
Ad blocker interference detected!
Wikia is a free-to-use site that makes money from advertising. We have a modified experience for viewers using ad blockers

Wikia is not accessible if you've made further modifications. Remove the custom ad blocker rule(s) and the page will load as expected.